For a while I've wanted to learn to quilt. Not with the burning, consuming desire that I wanted to be a knitter, but I really wanted to learn nonetheless. I didn't need the full-blown heirloom-quality quilt instruction either. Just how to make simple quilts I could gift, sell, or adorn the beds of my home with.

So after a yarn expedition to Home Made in Swainton, NJ, and discovering their quilt-in-a-day class, I took it as a sign. Another thing I could scratch off the old bucket list as Julie herself put it. And so it began.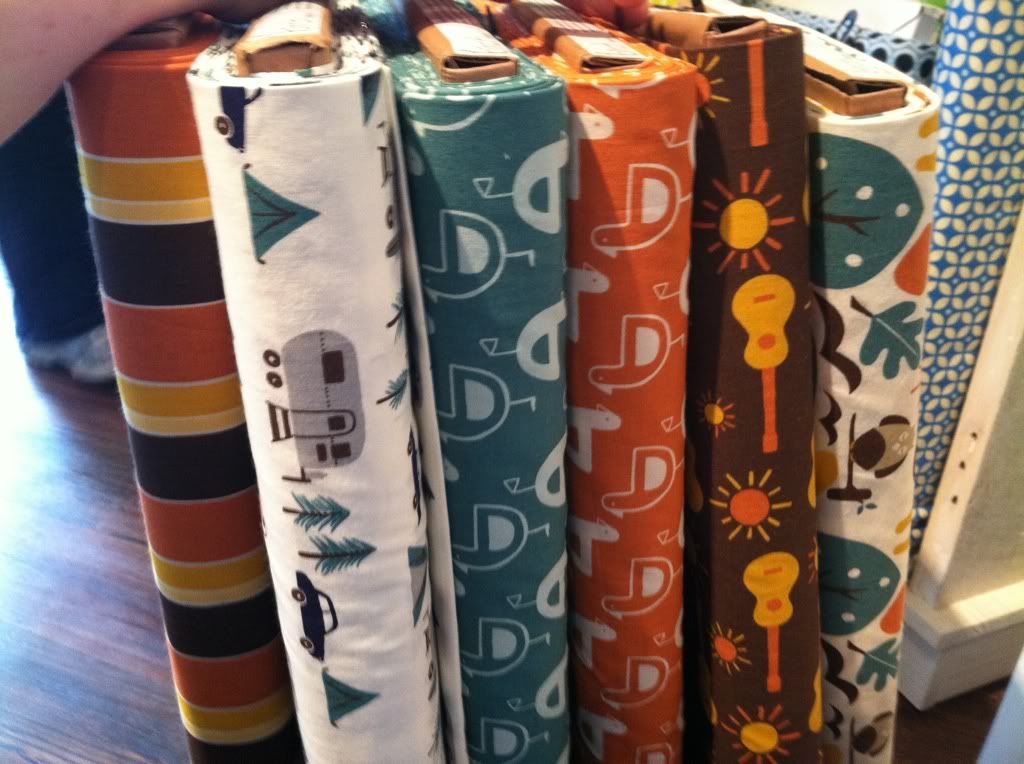 I picked these out so quickly my head was spinning!

So I had to decide who to make a quilt for, and after a long debate between my husband and my three-year-old son, I realized it was more my son's size. Victory was his! I chose the Beach Mod collection from Birch Fabrics. My son loves cars, animals, and guitars so the prints were right up his alley. I was able to purchase all of my materials on-site so it was extremely convenient too.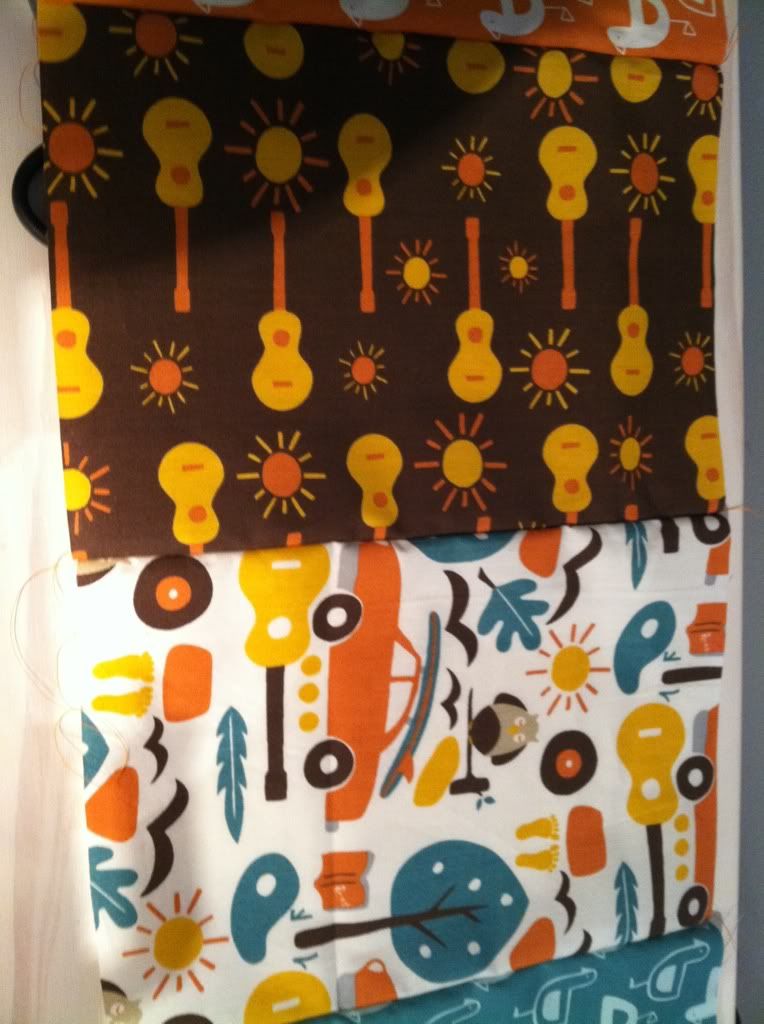 Detail picture of these fantastic prints.

I did a lot of play with Teal, Orange, Chocolate Brown, and a Golden Yellow so I have a color theme for my son's bedroom when we move in a month (a tale for another day). I poured so much love into this project. The guidance from Julie was fantastic. The atmosphere in her store is so welcoming, in the studio it's "Welcome, now get your butt in gear and make something beautiful!"



All of the prints playing off one another.

I opted for a simple diagonal stripe motif, not a lot of thinking but big visual impact. Leaning over my sewing machine, every pin I removed I thought of my son. I thought of how he'd love this quilt so much it could replace his ratty fuzzy blanket, and he'd be so proud of it.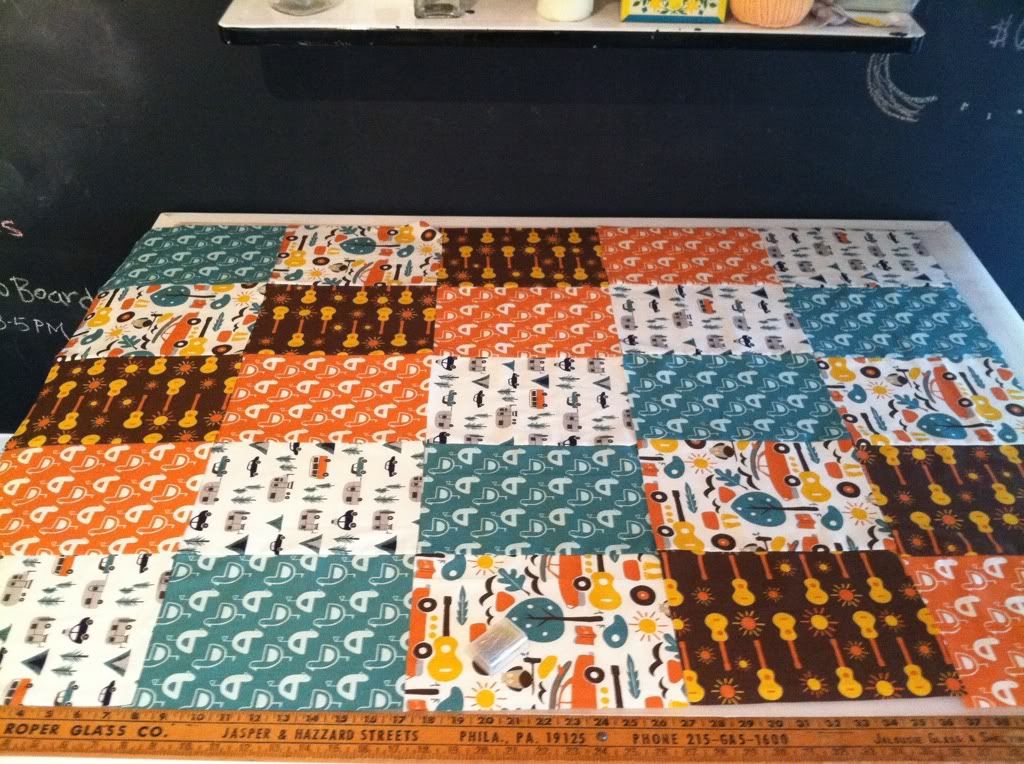 Laying out my blocks how I wanted them before pinning them together

By the end I was exhausted, I hadn't used a sewing machine in a while and my back was feeling it. But I was so close, I'd sewn in the batting hadn't I? I had stitched the edge? I was doing the seams at the meeting of my blocks, ready to be done, but then I looked at it again, and thought of my son. And smiled.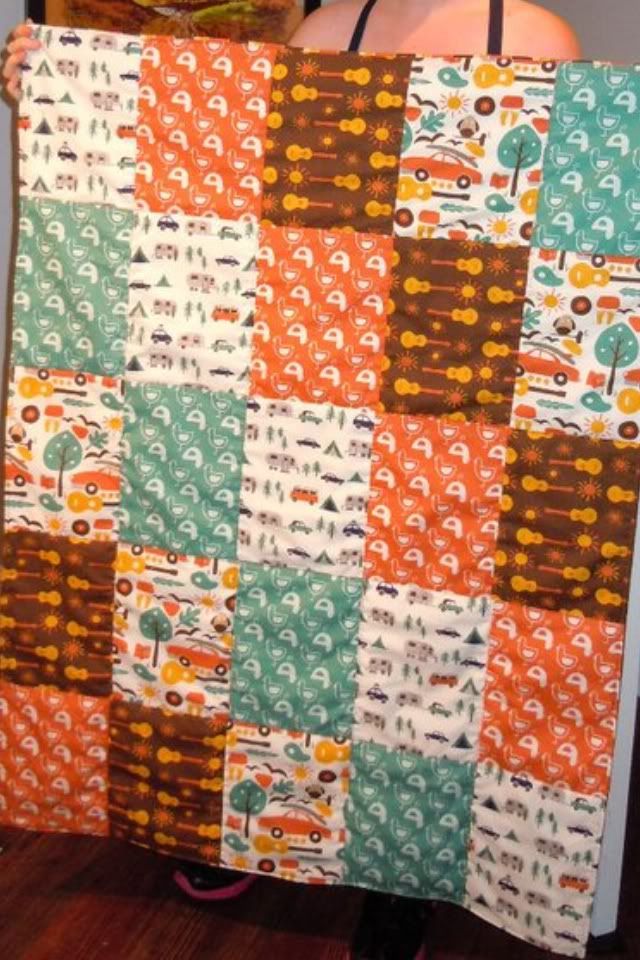 It came out bigger than I thought, I was thrilled!

It was gorgeous! I drove home with it in the passenger seat, I'd picked up fat quarter of the same fabrics to apply to pillowcases and curtains after our move. All of the ambition coursing through my veins. My kids were in bed when I got home but I still heard them talking (a regular occurrence). I opened their door and showed my son his quilt. My one-year-old-daughter chirped with delight to see me. My little boy, so full of appreciation, knew I had made it. He's so caring of all of the toys and garments I've made him. He carries granny squares around like they're beloved friends. He was so proud to pull it over him and go to sleep.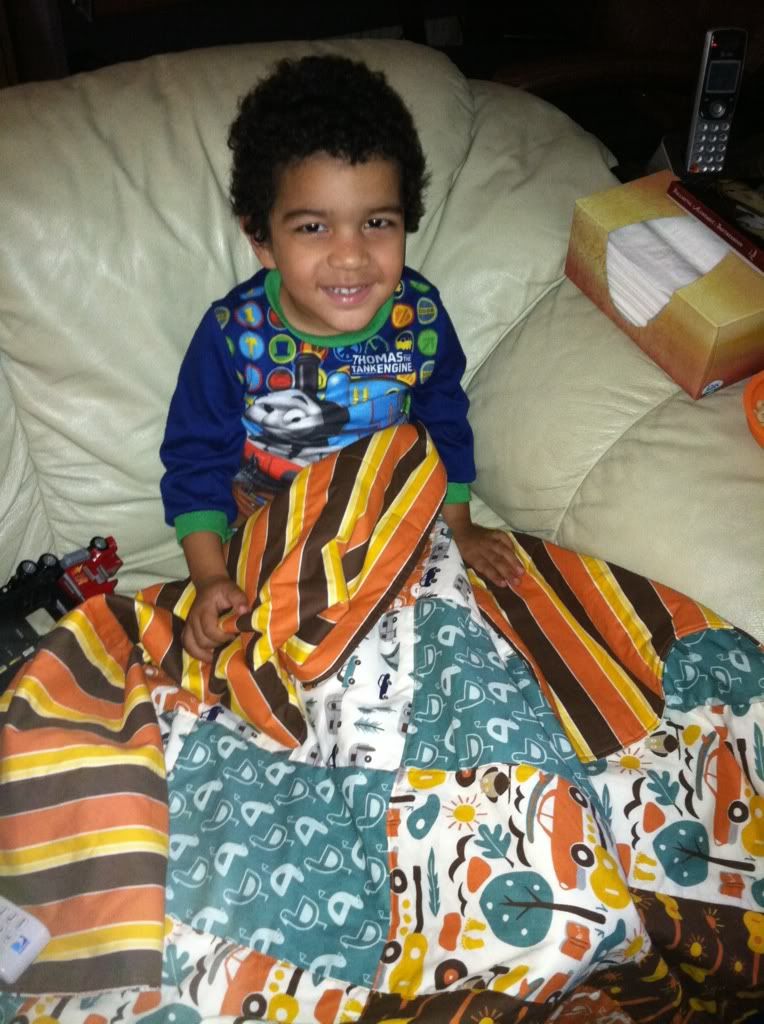 Do you think he likes it?

Now, it hasn't replaced his Blankie, but he does cherish it. It has a place of honor on his bed and he insists on curling up under it even on these hot 95+ degree nights. He cherishes it, and I love him for that.







- Jaqi


Location:Home Made- Swainton NJ